Dry Carpet Cleaning
Dry carpet cleaning has one benefit over carpet steam cleaning - Zero drying time, so if you have guests coming or in a hurry dry carpet cleaning is a faster method that leaves your carpet clean and smelling fresh.
In this process an encapsulating compound is sprayed on the carpet after a powerful vacuum has sucked all the dirt out this compound then is left for about 15-20 minutes and has the ability to attract dirt and soil to it. After the initial waiting another vacuuming is preformed and carpet protector is applied.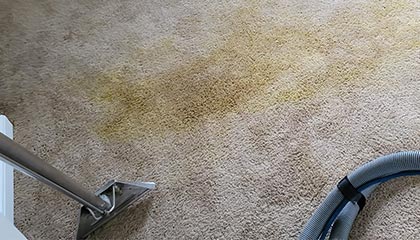 Steam Cleaning
Steam cleaning is a cleaning method the involves using powerful truck mounted machinery in order to "push" hot steaming water with a special PH balanced solution into the base of the carpet allowing it clean it thoroughly and takes about 2-4 hours to dry leaving zero residue. This process has been proclaimed by our clients as one of the best carpet cleaning services.
Bonnet Carpet Cleaning
Bonnet cleaning service is for carpets in high traffic area's or carpets which were not cleaned for a long time and are especially dirty and lost their original color. Bonnet cleaning includes a rotary machine with a special disc mounted on it and then a hose injects shampoo to the carpet and the disc in a rotary motion deep cleans the carpet. Most recommended for lobbies and house entrances.
OC Carpet Cleaners
OC Carpet Cleaners are proud to service Orange County and the surrounding area's. For further questions and work orders please contact our office at 949-892-5452